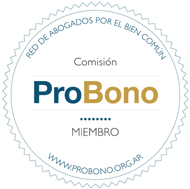 As lawyers at one of the leading law firms in Argentina, we believe that it is our responsibility to collaborate with the communities in which we develop our business, as well as provide our legal solutions and services to those in need with the same quality of representation as the services we provide to our paying clients. Pro Bono work is among Bruchou & Funes de Rioja most important values.
Accordingly, our Firm has signed the "Pro Bono Declaration for the Americas" prepared under the coordination of the Cyrus R. Vance Center for International Justice of the NYC Bar Association (the Declaration's depository and supervisory agent) and belongs to the Pro Bono Commission of the Lawyers´ Association of the City of Buenos Aires ("Comisión Pro Bono del Colegio de Abogados de la Ciudad de Buenos Aires"), through which many of the legal aid demands that arise in Argentina are channeled. Additionally, Bruchou & Funes de Rioja is a member of TrustLaw Connection, the free Pro Bono global legal program of the Thomson Reuters Foundation, which: i) allows organizations with limited resources to gain reliable access to legal assistance, and ii) makes it easier for lawyers to take part in high-impact Pro Bono work and projects.
The purpose of the Pro Bono Declaration for the Americas is to articulate lawyers' responsibility to help their communities. The Declaration has been signed by many of the most important law firms in New York City and Latin America. In adhering to this Declaration, its signatories pledge a minimum number of hours to Pro Bono work per lawyer, which each signatory agrees to gradually meet.
Therefore, our Firm encourages interested lawyers to participate in Pro Bono projects in which our Firm is engaged, especially because they can provide legal assistance and promote access to legal representation for those who lack the financial resources to afford such assistance. To that end, Bruchou & Funes de Rioja has decided to give the hours that our lawyers dedicate to Pro Bono work equal weight to the hours they devote to paid work when assessing remuneration, periodic bonuses, and performance evaluations, among others.
Within our Firm's internal structure, Pro Bono activities are led by a Pro Bono Committee of Partners and Senior Associates, a Partner responsible for Pro Bono activities and a Coordinator, all of whom define, advance and coordinate the development of the Pro Bono practice among Bruchou & Funes de Rioja's Associates.
Some of the projects in which we are collaborating
Other projects in which we have collaborated: